A wet Rutherglen winter with both rain and wine!
Posted on
September 21, 2016
Our first winter in Rutherglen was a wet one. The wettest on record. Paddocks turned into pools and roads into rivers! Our friends the butchers could even go fishing on their road! One thing's for sure – we no longer have the worry of killing our garden! It has been so wet that I have not watered the garden since April, and our citruses and veggie patch are looking very healthy. Our guests are now treated to spinach and kale in dips and sautéed in their breakies. Our citruses have made luscious butter and marmalades, and our mandarins feature in our seasonal fruit salads!
Despite generally quiet times for tourism in Rutherglen, we have been blessed with a continual flow of wonderful guests. Those whom ventured from the dreary winter rat-race of the big smoke and found themselves in Rutherglen were able to enjoy many delights.  They were treated to cosy crackling fires, fields of bare winding vines and, of course, copious amounts of our amazing Shiraz, Durif and Fortified!
Winter was also the start of new tempo for Shannon. Gone are the days of the Yarrawonga GP clinic, gentlemanly hours, chummy patients, doting nurses and admin staff! He is now smashing out some huge hours at Wangaratta hospital, where the roster is continually changing, the workload is never ending and there is a new patient to see every minute, rather than every half-hour. I am so proud of how well he is coping and of his recent achievement of gaining a position in the rural GP training program. He even still manages to find the energy on days off to help with home maintenance and play host to our guests too!
Our international themes for the colder months have been a real hit with the guests! During Spanish month every guest would order my air-fried Chorizo and Manchego Croquettes. When I worked weddings at Terindah Estate last year, the chefs made Jamón croquettes as canapes. They were so good guests would swoop to the poor waiter only moments after emerging from the kitchen! I knew that my take on these moreish mash of crispy goodness would be a hit – even at breakfast!
We are still yet to really immerse ourselves into one of many community groups here – CFA, RSL, Lions, Rotary, Bitch and Stich at the pub, Art Society… It's amazing there can be so many in a town of only 1500 people! But there is one inner sanctum that we have very keenly engaged with – Rutherglen's best kept secret: The cellar door forum. Once a month a number of Rutherglen wine makers bring along a bottle or three centred around a selected monthly theme. Wines are sampled and discussed along with a nibble on local cheeses and olives. As accommodation providers, we are invited to attend and so are our guests – if they are lucky enough to stay the night that they are held (usually a random week night).
The forum location varies from month to month, whether it be in a winery, restaurant or B&B – we have loved every one so far! We were recently lucky enough to host our very own forum in our bank chambers – it was the perfect setting for a wintery wine sesh. The secret is well and truly out – some of our guests have requested to be notified when the next month's forum is held in the hope that they may join us on this very unique experience!
Over the last weeks Spring has finally arrived in Rutherglen. Blossoms are in bloom, vines are neatly pruned ready for bud burst and the fields of yellow canola can provide the perfect setting for a romantic Spring fling. Bring on Spring I say!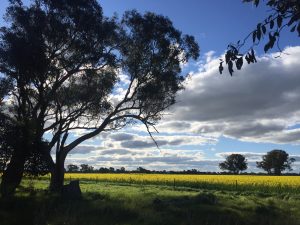 Spring in Rutherglen!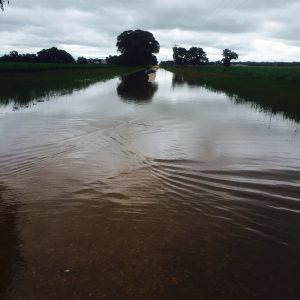 River Roads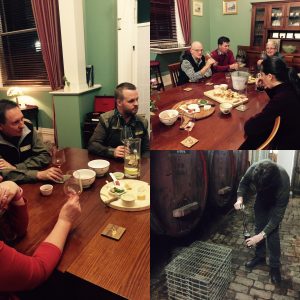 Cellar Door Forum hosted in our Bank Chambers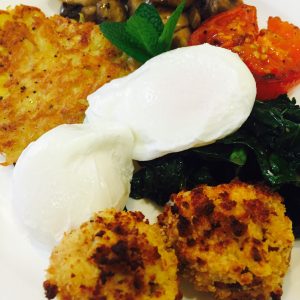 Crispy Croquettes – Spanish style!